Hotel for NAFLD Summit 2019
The conference will be held at Barceló Sevilla Renacimiento.
Barceló Sevilla Renacimiento
Av. Álvaro Alonso Barba, s/n
41092 Seville
Spain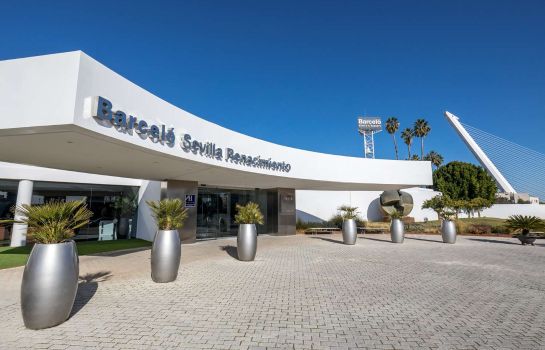 Description and Price
The prices quoted below are negotiated rates that EASL has obtained for a limited number of rooms:
Barceló Sevilla Renacimiento, Seville

Classic room, single-use – EUR 154.00

Classic room, double use – EUR 186.00
How to book
We strongly recommend that hotel accommodation is booked early and we will be happy to be of assistance in all matters concerning hotel reservations for this event. Hotel reservations will be confirmed only after receiving the full deposit payable by credit card or bank transfer within 10 working days from the day of booking. If a hotel reservation is made by a sponsoring company, the delegate will receive all information directly from the sponsoring company.
Once you have registered, you will be able to book your accommodation on the same online platform.
Cancellation policy
All cancellations must be received in writing by e-mail: nafldsummit@easloffice.eu before or on the following deadlines (please do not contact the hotel directly):
Until 29 July 2019 (23:59 UTC+1): full refund minus EUR 35.00 for administrative charges
As of 30 July 2019 no refund is possible
A refund should not exceed 30 days after the receipt of cancellation.
Visa
Please check with your local embassy before leaving whether or not you will need a Visa to enter the country. As the Visa application process may be time-consuming, it is recommended to apply as early as possible.
Please note that EASL cannot be held responsible in cases where your Visa has been rejected.
Flights for NAFLD Summit 2019
Iberia Airlines, preferred Air Carrier, EASL NAFLD Summit has reached an agreement and grants a 10% discount to the Congress attendees.
To receive the discount, please click the Iberia logo or directly go to http://www.iberia.com

Once select your round trip fare, click "I Have Promotional Code" and include the discount code NAFLD2019 (in capital letters) keeping in mind that journeys are valid 5 days before up to 5 days after the schedule event.
Valid for flights operated by: